Matthew 25:35 "…a stranger and you welcomed me…"
This is difficult to write, never having been homeless. Came close at least once or twice, but that is not the same.
I cannot wrap my mind around the concept of being without a home. A warm bed, a roof over my head, a place to keep my stuff, I have always had these.
The very idea of this happening, the last day in one's own home before being evicted or kicked out… facing the streets for the first time without the knowledge that there is some PLACE to go back to.
There are shelters, and people who dedicate their lives to caring for the homeless. Whether the homeless are "that way" because of financial difficulties or drug and alcohol addiction, it is little matter. People are out on the street and suffer for it.
As a society, we are less than hospitable. We turn our heads away from the beggars in the street. I have done that, out of guilt or shame or revulsion.
How we treat some of the most vulnerable of our society tells a lot.
If you click on the image of the mug below, you'll be taken to the "Works of Mercy" store at Artist4God (my wife's online shop.) Buy anything from the "Works of Mercy" store and a portion of the proceeds go to life-affirming charities.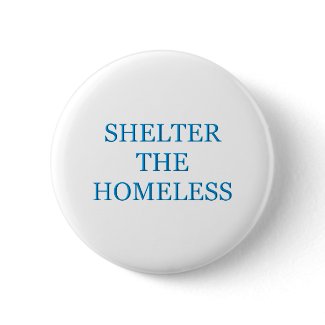 Shelter The Homeless Buttons
by
WorksOfMercy
Know someone, perhaps yourself, who might like Catholic devotionals for alcoholics? Please take a look at my books!
(Thank you!!)
"The Recovery Rosary: Reflections for Alcoholics and Addicts"
and
"The Stations of the Cross for Alcoholics"