Today is the Solemnity of St. Joseph, the Patron and Protector of the Universal Church. In his role as husband of the Blessed Virgin Mary and foster father of Our Lord Jesus Christ, he is an excellent role model for us alcoholics.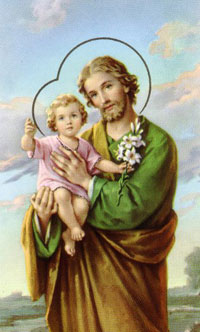 While not directly related to alcoholism and addiction, many of us grew up in dysfunctional families. I can exclude myself from this, my parents weren't perfect, no one's are, but I have no major complaints. Many were raised in trying circumstances and in varying methods of parental compassion and effectiveness. As a result many alcoholics and addicts do not know what it means to be raised in a good home, where everything is provided, including love and other emotional needs.
In 1964 Pope Paul VI gave a talk while in Nazareth in which he described the village where Jesus was raised by Joseph and Mary as a "school" by which we can gain much knowledge of an ideal family life merely by reflecting on how Jesus, Mary and Joseph lived. You can read his reflections here: Reflections on Nazareth.
(Via Papal Encyclicals.)
Those who have had less that stellar parenting while growing up can turn to Joseph and Mary. Page 86 of AA's basic text, Alcoholics Anonymous offers a suggestion that as we go about our day, we may pause a while when faced with difficulty and ask God for help and direction. As the Church teaches that saints can have an intercessory role (much like when we ask each other to "please pray for me") we can always quietly ask Joseph and Mary, "Please be a parent to me now, Joseph and Mary. The road I am on right now is difficult, I need the guidance that only a Mom and Dad can give."
You can read more about St. Joseph at Catholic Online.
Know someone, perhaps yourself, who might like Catholic devotionals for alcoholics? Please take a look at my books!
(Thank you!!)
"The Recovery Rosary: Reflections for Alcoholics and Addicts"
and
"The Stations of the Cross for Alcoholics"