(NOTE: I was so excitipated over the relic tour that I messed up some links in the body of the post. The "St. Maximilian Kobe Post Archives" link should be fine, and I now include links to the news article as well tour schedule.)
I learned yesterday that a first-class relic of St. Maximilian Kolbe will be taken on a pilgrimage tour of the USA and Canada during 2016. I'm blogging about it only today as I was so excitipated I couldn't get anything done. See: St. Maximilian Kolbe Relic Tour Begins in U.S.. The schedule is here:
Click here to see if the Tour goes near you.
To be "excitipated" means to be "so excited about something that you cannot function productively." I made the word up. Yes, St. Maximilian Kolbe is one of my favorite saints.
St. Maximilian Kolbe is a patron saint of alcoholics and addicts. I've written many times about him on this blog. See the St. Maximilian Kolbe Post Archives for all the posts on him.
I am also a member of the Militia of the Immaculata, a personal conversion and evangelization apostolate he founded in 1917. He established the MI while in Rome in response to a massive anti-Catholic protest and demonstration by Freemasons.
His relics will be at a parish not very far from me. I will be able to see them on May 22nd, which is a date of much significance to me, for that is my sobriety date. It is also the feast day of St. Rita of Cascia, patron of lost causes and impossible situations.
So, one of my favorite saints, who's a patron of addicts, will be having his relics pass right by me on my sobriety date. And I'll be able to see them. Paulcoholic is excitipated!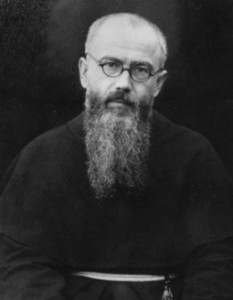 A note on "relics." From the Mother Teresa of Calcutta Center: "What is a Relic?
A relic is something connected with a saint or blessed, including a part of their body (e.g. hair or a piece of bone), their clothing, or an object that the person used or touched.
Relics are classified as 1st Class – a part of the person's body, for example: blood, hair, or bones; 2nd Class ‑ an article touched by the person or touched directly to part of his or her body; and 3rd Class ‑ something touched indirectly to the person, that is, to a 1st or 2nd Class relic, to the tomb, etc.
It is not the kind of relic or how big it is that is important, but rather the faith and prayer that the relic occasions. By the communion of saints, it is that person who is close to us, blessing and praying for us."
The first-class relic of St. Maximilian is hair from his beard. Since he was murdered by the Nazis at Auschwitz, his body was dumped in a crematorium. No remains were saved. A barber had shaved his beard in 1939 just after the Nazis invaded Poland. It was hoped a beardless face would attract less attention. (This is from the National Catholic Register article on the Tour linked to up above.)
Know someone, perhaps yourself, who might like Catholic devotionals for alcoholics? Please take a look at my books!
(Thank you!!)
"The Recovery Rosary: Reflections for Alcoholics and Addicts"
and
"The Stations of the Cross for Alcoholics"