I received an email last week from Anuj Agarwal, the founder of FeedSpot, a blog feed service. According to their panel, Sober Catholic is one of the Top 60 "Living Sober" Blogs!!! (I came in at Number 11!)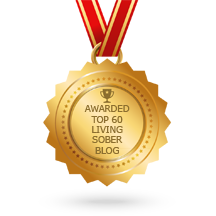 Thank you so much, I am honored by the recognotion. Congratulations are also in order for my "sister" Number 9 over at Catholic Alcoholic, she pulled in at No. 33!
Know someone, perhaps yourself, who might like Catholic devotionals for alcoholics? Please take a look at my books!
(Thank you!!)
"The Recovery Rosary: Reflections for Alcoholics and Addicts"
and
"The Stations of the Cross for Alcoholics"