It seems like there's been a flurry of meritorious GoFundMe campaigns during this Lenten/Easter season. Well, there's another worthy campaign that I am bringing to your attention…
PLEASE… if you can.. support Prairie Hoof Farm by Kevin and Mary Ford in their attempts to re-establish their farm to the Topeka, Kansas region.
The Fords: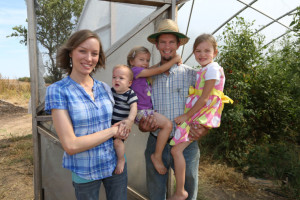 Kindly go to the GoFundMe link and read up on it; Kevin tells it much better than I can.
But in short, the Fords currently run a farm in south-central Kansas. It has experienced a few bad years, "bad" enough that it would have convinced most people to hang up their mucking boots (or whatever it is that farmers wear when they muck around in pig … stuff…) and repurpose their life. But not Kevin. Kevin, you see, is the founder of the "New" Catholic Land Movement. Kevin descibes the NCLM succinctly:
"A great hope we have for our farm is to make it a place where families can come to live, work, and pray together. Our culture so fragments life today that we feel an experience like this on a farm could really help families to be what they are meant to be. Making our business successful will help us to be able to fulfill this ministry. We would like our farm to one day be a base for the New Catholic Land Movement to use to train families in homesteading and farming-related skills."
This is Kevin with a pig friend: (The boots he's wearing are what I was referring to a couple of paragraphs above.)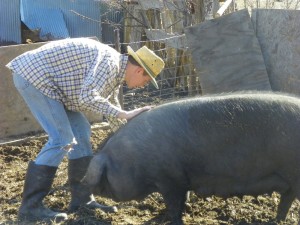 Kevin maintains a site and blog dedicated the the NCLM, where there is a more complete description of it: Introduction to the New Catholic Land Movement.
Please find it within yourself to contribute… This is an excellent opportunity to help an independent business, complete with family to boot AND help an aspect of American culture that need invigoration. If you are a Catholic who supports certain aspects of Catholic Social Teachings such as "solidarity" and Distributist economics, this is a way to get involved. Thanks!
Know someone, perhaps yourself, who might like Catholic devotionals for alcoholics? Please take a look at my books!
(Thank you!!)
"The Recovery Rosary: Reflections for Alcoholics and Addicts"
and
"The Stations of the Cross for Alcoholics"