Today is the Solemnity of the Sacred Heart of Jesus, an ancient and popular devotion amongst Catholics. The Sacred Heart is also important to alcoholics in recovery, as those who know AA history are aware that Sister Ignatia of St. Thomas Hospital in Akron, Ohio, (who worked closely with Dr. Bob, the co-founder of AA) gave out "Sacred Heart Badges" to those alkies who were successfully treated there. From it came the AA tradition of "chips"or coins marking periods of sobriety.
An example of a Sacred Heart Badge: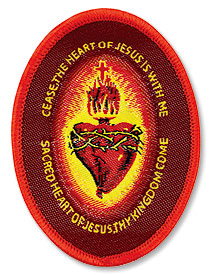 Image courtesy of Roman Catholic Sacramentals Foundation
Romans 8: 35-39 "Then who will separate us from the love of Christ? Tribulation? Or anguish? Or famine? Or nakedness? Or peril? Or persecution? Or the sword?
For it is as it has been written: "For your sake, we are being put to death all day long. We are being treated like sheep for the slaughter."

But in all these things we overcome, because of him who has loved us.
For I am certain that neither death, nor life, nor Angels, nor Principalities, nor Powers, nor the present things, nor the future things, nor strength, nor the heights, nor the depths, nor any other created thing, will be able to separate us from the love of God, which is in Christ Jesus our Lord."
The Sacred Heart represents Jesus' love for us, and our devotion to it represents our returning that love, our offering of ourselves as sacrifices to make reparation for sins against Jesus (blasphemy, sacrilege, indifference).
How can YOU do this? By consecrating yourself to the Sacred Heart of Jesus! You can read the prayer on EWTN's site, go here: Act of Consecration to the Sacred Heart of Jesus.
I have written previously about the Sacred Heart, check the Sacred Heart Post Archives out to learn more!
Know someone, perhaps yourself, who might like Catholic devotionals for alcoholics? Please take a look at my books!
(Thank you!!)
"The Recovery Rosary: Reflections for Alcoholics and Addicts"
and
"The Stations of the Cross for Alcoholics"