I occasionally blog about "going outside to get outside (of yourself.)" Pope St. John Paul II frequently exhorted people to see God in Creation; not to worship the Created, but to cherish the work of the Creator. Given the amount of time he spent outdoors with the youth groups he led in Soviet-occupied Poland during his years as a parish priest, he found value in it, practiced what he preached and shared it with others.
I'm not that outdoorsy, but I do like going for walks, sitting outside when it's nice and even saying my Morning or Evening Prayers out there. I frequently go for walks up and down our rural road, Rosary in hand.
One thing I've tried doing over the years is gardening, as in growing vegetables and herbs. I've had sporadic success. Some years better than others, or partial success: tomatoes grow but nothing else, or squash is fine but everything else, not so much.
This year, so far, seems to be different. Things are growing just fine, no pest problems, veggies are flowering and producing fruit, I even harvested some sugar peas this morning. I reported this on a gardening forum and was asked what did I do differently? I replied that "I did have a little more time this year, what with the lockdown and self-quarantine because of COVID-19, but not too much more than in the past. I think I just relaxed, put in the fence posts where I could, strung up the available chicken wire (I didn't even bury them by a few inches to prevent critters from burrowing under) put in the outer deer-fencing, and just planted what I wanted in no regular order. I tossed pots here and there for herbs, flowers and cherry tomatoes, mostly along the edges. No nice rows, nothing like that. I mean, there is a semblance rows, but not too tidy. Everything is just planted around other things, and I hoped for the best.
I had thought that some of the zucchini was being eaten by something, so I went and purchased replacements. I chose acorn squash, actually, instead of more zucchini. I came home, put the acorn squash down on the grass, went off and did something, came back and wasn't looking where I was going and stepped on the acorn squash plantlings. I was a little… shall we say… irked. But I figured, what's the worst that can happen? and so I just planted them elsewhere. Turns out the zukes survived whatever was bugging them and the stepped on acorn squash recovered. (A few of each did die, but most are thriving.)
So, I just decided to relax about the need for me to really do well. If it's gonna happen, it'll happen. If not, oh, well, another year's learning experience. No more wrapping up personal self-esteem with having a good garden. Just plant, chill out, water when needed, tend to it, and there it happens."
I later edited the post to add that I practice gratitude, that every time I go out there I give thanks.
And THAT is the clincher, or one of them. There is that stuff I mentioned about "relaxing" and "chilling." And that is true. I was thinking about this today and it does seem that "things are coming together" and I don't have an adversarial relationship with my garden, that its success points to me; and because I have wrapped my self-esteem up in how good my garden is. To my mind, a lot depended upon having a decent garden. I just would like to grow things and be good at it. Except for times of extreme irritation, I never thought about giving up; I was going to persevere and regardless, keep on gardening every year. But I think I might eventually give up. But not after this year's effort, even if something disastrous happens.
I suppose perseverance has paid off, but I think it is also something else. Partly the "relaxing" and "chilling" out, meaning I did what I could do and left the results up to God. And partly gratitude, for I do go out there frequently and when I see the results (so far) joy wells up in my soul and I utter wordless prayers of thanksgiving to God. I take no credit for how the garden is doing; I just planted stuff here and there, tend to it, and let it roll.
So, as of this post, I can grow stuff. It still remains to be seen if this is a fluke, but I have hope. I'm already planning next year's garden!
Some pictures: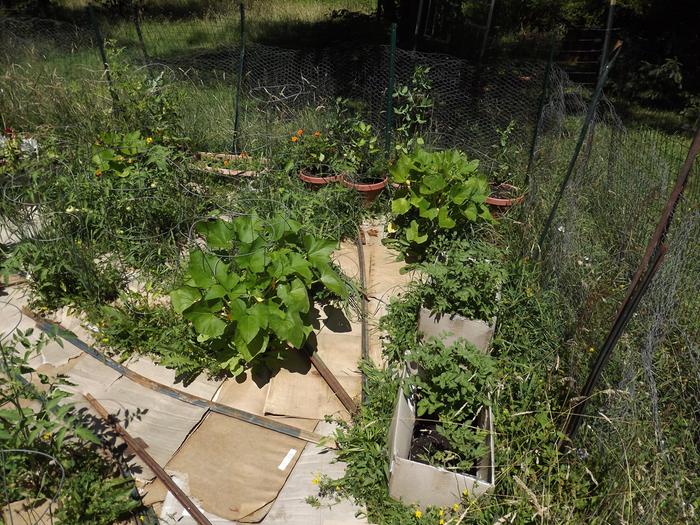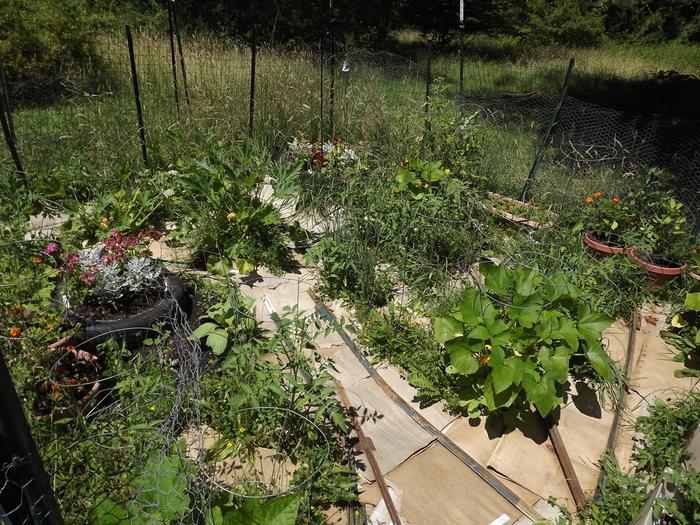 I know it looks weedy and unkempt, but I don't care. That is also one thing I'm doing differently this year: instead of diligently going out and weeding, (which ultimately fails as they get out of control and I give up) I just laid down cardboard in the pathways so I can walk amongst everything and tend. Weeds are growing right near all the plants, but nothing seems to suffer for it. At this point, I think that weeding may be a bad idea as pulling them up might disturb the roots. Otherwise, I just claim that I'm practicing "biodiversity!" Weeds are a "living mulch!" Yeah, that's it! 🙂
Know someone, perhaps yourself, who might like Catholic devotionals for alcoholics? Please take a look at my books!
"The Stations of the Cross for Alcoholics"
and
"The Recovery Rosary: Reflections for Alcoholics and Addicts"
(Thank you!!)